My works include:
Senior Citizen Clubs
Many old age homes and senior citizen's club has been made for senior members of our society. Special facilities are provided for them in Kumar resorts that too free of cost.
Women and children
For those deprived women and children I have tried to help them as far as possible. Scholarship or without donation admissions, that too in good schools or colleges, have been always supported by me.
855 building matter
I still remember that day when 855 buildings in Ulhasnagar got a notice from the government saying them to quit their houses for demolition purpose. I was scared… what will happen to those 855 residents??? Where will they go??? Then I made decision that whatever happens none of the house will be demolished I will stand for them… for their rights. I used my whole force to save their houses. I raised this issue till Delhi. Every delegation, every causes and in every way possible I have tried to stop demolition. We even involved the great advocate of India Shri Ram Jethmalani to save 855 buildings. During that time a building called Rani Maa was demolished. I quickly went to theire rescue. Saw many sadden faces, couldn't resist my self. I tried my level best to help them.
26th July 2005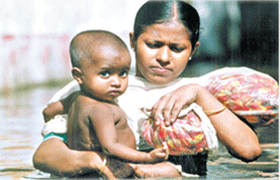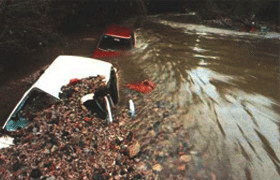 Who can forget those torrential rains of 26th and 27th July 2005? Continues 2 days of raining and bad condition of drainage system resulted in water blockage. Entire Ulhasnagar with places like Mharal Gaon, Varap gaon, and Kamba Gaon was submerged in 10-15ft water. It was a huge loss of property and life. Food and drinking water were at stake. Many shopkeepers took this for their advantage and started selling goods at higher rates, so poor ones couldn't afford it. As soon I came to know about this problem I divided my team and gave them each specific location so that they can help people with food, water and other basic amenities. At that time, there was a shortage of drinking water in whole Ulhasnagar city, I was very sad by that news, but I didn't lose my hope. Then I decided to dig up a well for borewell water at Town Hal Ulhasnagar-3. But look at the miracle of God, as we dug in we found pure drinking water at the brim. Filling each can after can we supplied that water to everyone.
My Works from 1994 - 2009
1994-95
- I have also strived a lot to bring social unity and the feeing of integrity. For that many of my friends also active participated in many such events. So thought why not come up with a organization? In the year 1994-95 I and few of my friends came up with a organization called Kumar Mitra Mandal. Members of this organization were Girdhari Sachdev, Ram Chanchalani, Jammu Purasawani, Vashuhardasmalani, Prakash Gidwani. Many festivals like Cheti Chand, Dandiya Ras, Ganesh utsav or Sindhi plays, Social events etc are taken care by Kumar Mitra Mandal.
1997
– Selected as an Independent Candidate for Elections. Then for the next consequent 2 years I was elected as a Deputy Mayor for Ulhasnagar. For 15 days I was elected as a Mayor of Ulhasnagar. It gave me a perfect opportunity to present the problems faced by Ulhasnagar's common people in Ulhasnagar Municipal Corporation. The major problem faced was water problem, which got solved when Ulhasnagar Municipal Corporation spent nearly Rs. 17 Crore to built water tanks and pipelines. After this incident, I learnt a fact that I should be constantly in touch with the people of Ulhasnagar to know them better and to solve their problem. This strategy worked in the favor of the common people of Ulhasnagar. As time flew slowly and gradually I became the voice of Ulhasnagar and this fact wasn't of much interest for my political opposition. They tried to restrict me from joining politics, because my interference means public interference, which they didn't want. But due to God's Grace and public support I marched ahead with my political career.
2005
- I was a candidate of Bharatiya Janata Party (BJP) contesting for MLA elections. Again my political oppositions became alert and tried their full force to constrain me. And I lost that election. Though I lost, I didn't lose my spirit to work for my mother land- Ulhasnagar.
2007
- With huge amount of votes I was elected as a cooperator from ward no. 25 Gol maidan of Ulhasnagar. And again I was working with Ulhasnagar municipal Corporation (UMC)
2008
- Became a Deputy Mayor, for 1 year. Ulhasnagar City that I love more than my life, should be developed and prosperous. If I have chosen politics, that too is because of my beloved citizens of this city. Today Ulhasnagar is submerged with many problems, and I want this city to get away with its problem and see a well developed future. With this motive in my mind I thought of standing in MLA elections on behalf of Bharatiya Janata Party (BJP).
2009
- Goodman's cottage: on 24th july 2009 in Ulhasnagar-1 a building named Goodman's cottage fall off. Thousands of people became shelter less. They suffered huge loss of property. At that time I and my team were on our toes to help them out in this crisis. We offered them help in terms of money, food and shelter.
Other works that I Completed
Construction of cement block road from Nehru Chowk to Gol Maidan. With a sanction from MMRDA and on behalf of Ulhasnagar Municipal Corporation (UMC) we have built public toilets. I have also contributed in the construction of Skywalk project in Ulhasnagar. I have also contributed in the construction of drainage system, roads, footpaths, cement block roads, water pipelines etc… Very recently Rs.150 crores has been sanctioned for replacing water pipelines of whole Ulhasnagar.